Fastrack Bicycles
is an owner-operated business with just two employees,
Dave Lettieri
(owner) and Luke Johnston (Sales & Technician) and it offers Customer Service "the way it used to be"! Fastrack Bicycles sells the top brands and helps you get the bike that is both appropriate and fun for you to ride. No "big" Internet Department--just exceptional PERSONAL service! FRCC Members receive SPECIAL pricing on all products! For more information on what's offered please
contact them now
.
SportRx
is a San Diego based company that was built by active opticians who ride their bikes, run their races, push their jogging strollers, and bomb down slopes. Over the last two decades, they have specialized in
custom prescription sunglasses*
(and prescription snow goggles!) for athletes in virtually every sport, and have mastered the art of prescription wrap around lenses. Since 1996, they've been on a mission to help people see better while doing the things they love. They strive to create the best prescription sunglasses, glasses, and goggles that are tailored uniquely to your sport and vision needs – no matter how extreme your prescription (or your sport!).
FRCC MEMBERS RECEIVE DISCOUNTS ON ALL PRODUCTS WITHOUT EXCEPTIONS OR EXCLUSIONS!! To obtain your Member Discount Code Please
Contact First Responder Cycling Club
.
*Non-Prescription Eyewear is also available!
FRCC is proud to have ALTO CYCLING (wheels & accessories) as a club sponsor offering our members VERY special pricing. Founded in 2014, Alto was born out of a desire to solve the problems that plagued bike racers and triathletes for years. Why did every brand tout industry leading aerodynamics (isn't it amazing how they're all the fastest in their own testing?), while falling short structurally. Aerodynamics are undoubtedly important, but it's equally important that we design and manufacture wheels with world leading lateral stiffness, rolling resistance, responsiveness, and durability. There are no marketing gimmicks or pretty pictures here, only products made for one purpose: to make you go faster. Engineered to perform, raced by the worlds best athletes, and made in the USA.
For ordering and discount info, Contact Dave Lettieri at
Fastrack Bicycles
(805) 884-0210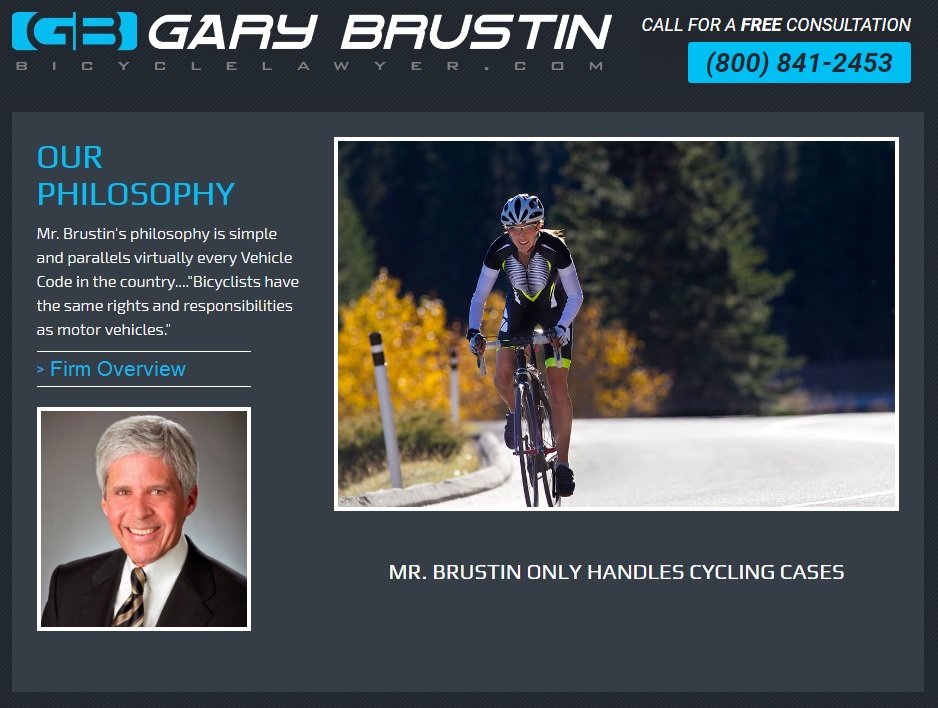 BicycleLawyer.com
Mr. Brustin generously donates his time to bicycle advocacy organizations. He currently serves on the Board of Directors of the Silicon Valley Bicycle Coalition. He served on the Board of Directors of the League of American Bicyclists in Washington D.C. (9 years) and on the California Bicycle Coalition in Sacramento (10 years). He was the founder and first chairman of the National Legal Affairs Committee for the League of American Bicyclists.
Mr. Brustin's main offices are in Santa Monica and the Silicon Valley. He represents cyclists throughout California.
He also has a network of qualified bicycle accident attorneys throughout the country for clients who are seeking representation outside of California.
Please feel free to contact Mr. Brustin at any time via the above links for a complimentary consultation.
ALADS
is the Association for Los Angeles Deputy Sheriffs. It was formed in February, 1970, by ten Deputies who joined together to collectively resolve a dispute. In 1976, ALADS was certified as the majority representative for Bargaining Unit 0611, comprised of non-supervisory peace officer employees of the County. Our Memorandums of Understanding have historically resulted in the best wages, benefits and working conditions negotiated for any County employee group.
ALADS has a keen interest in supporting organizations and events which benefit and enrich ALADS Member's lives.
Please Visit the ALADS Website to learn more (inc. Membership info):
ALADS Website
Anthem Blue Cross is a leader in the healthcare industry and offers a wide variety of products and services. It's Mission Statement is "Improving Lives and Communities. Simplifying Healthcare. Expecting More." Anthem Blue Cross has a long history of providing services to meet the healthcare needs of Public Safety personnel.
VOLER
is FRCC's kit & accessories Sponsor. Founded in 1986 in San Luis Obispo, California, what began as a small operation producing windsurfing bags and cycling helmet covers quickly morphed into creating top-notch custom cycling apparel. By 1996 Voler moved to Grover Beach (15 minutes south of SLO) and ramped up production in a much larger facility. Voler added to the facility in 1999 and started the Voler online Store (previously Velowear) selling our non-customized apparel direct to consumers.
CRUNCH Fitness - NO JUDGEMENTS! 👍 - FRCC Members can receive Special Pricing --please submit the below form for details!! There are no judgments here – No too much or not enough. No glares of disapproval. Here we keep open minds. We are nurturers. We seek only to encourage, empower and entertain. There is no one type. There is no one reason. There is no one way. What we are is a diverse community; what we have is a culture of fun; what there is, is room for everyone: all kinds of people with all kinds of goals who've chosen to come reach them with us. Crunch. No Judgments.
We WELCOME your interest in becoming a FRCC Partner! Sponsorship levels begin at only $500. Please submit your information and we will be in contact very soon! We couldn't do this without your generous support—Thank You!
Greg "Sarge" Christopherson
FRCC President
SoCal Chapter Coordinator