Fastrack Bicycles
is an owner-operated business with just two employees, Dave Lettieri (owner) and Luke Johnston who focus on giving the best customer service. Fastrack Bikes sell the top brands and help you get the bike that is both appropriate and fun for you to ride. For more information on what's offered through FASTRACK for all FRCC Members Nationally please
contact them now
.
CRUNCH Fitness
- FRCC Members save $5 a month on dues with NO contracts! Your Enrollment Fee is also REDUCED to $0 (a $59+ value)! Yes--you can join for FREE! (just pay the monthly dues). Work out any way you want — Crunch is fit for all. Whether you come to lift weights or drop it like it's hot, you'll find everything here to look & feel your best. FRCC Members receive Special Discounts through Crunch Fitness in certain geograhphical regions.
Select your location!
California
Florida
Georgia
CRUNCH Fitness
-
California
- FRCC Members receive Special Discounts through certain geograhphical regions. Choose your location for details!
SportRx
is a San Diego based company that was built by active opticians who ride their bikes, run their races, push their jogging strollers, and bomb down slopes. Over the last two decades, they have specialized in
custom prescription sunglasses*
(and prescription snow goggles!) for athletes in virtually every sport, and have mastered the art of prescription wrap around lenses. Since 1996, they've been on a mission to help people see better while doing the things they love. They strive to create the best prescription sunglasses, glasses, and goggles that are tailored uniquely to your sport and vision needs – no matter how extreme your prescription (or your sport!).
FRCC MEMBERS RECEIVE DISCOUNTS ON ALL PRODUCTS WITHOUT EXCEPTIONS OR EXCLUSIONS!! To obtain your Member Discount Code Please
Contact First Responder Cycling Club
.
*Non-Prescription Eyewear is also available!
FRCC is proud to have ALTO CYCLING (wheels & accessories) as a club sponsor offering our members VERY special pricing. Founded in 2014, Alto was born out of a desire to solve the problems that plagued bike racers and triathletes for years. Why did every brand tout industry leading aerodynamics (isn't it amazing how they're all the fastest in their own testing?), while falling short structurally. Aerodynamics are undoubtedly important, but it's equally important that we design and manufacture wheels with world leading lateral stiffness, rolling resistance, responsiveness, and durability. There are no marketing gimmicks or pretty pictures here, only products made for one purpose: to make you go faster. Engineered to perform, raced by the worlds best athletes, and made in the USA.
For ordering and discount info, Contact Dave Lettieri at
Fastrack Bicycles
(805) 884-0210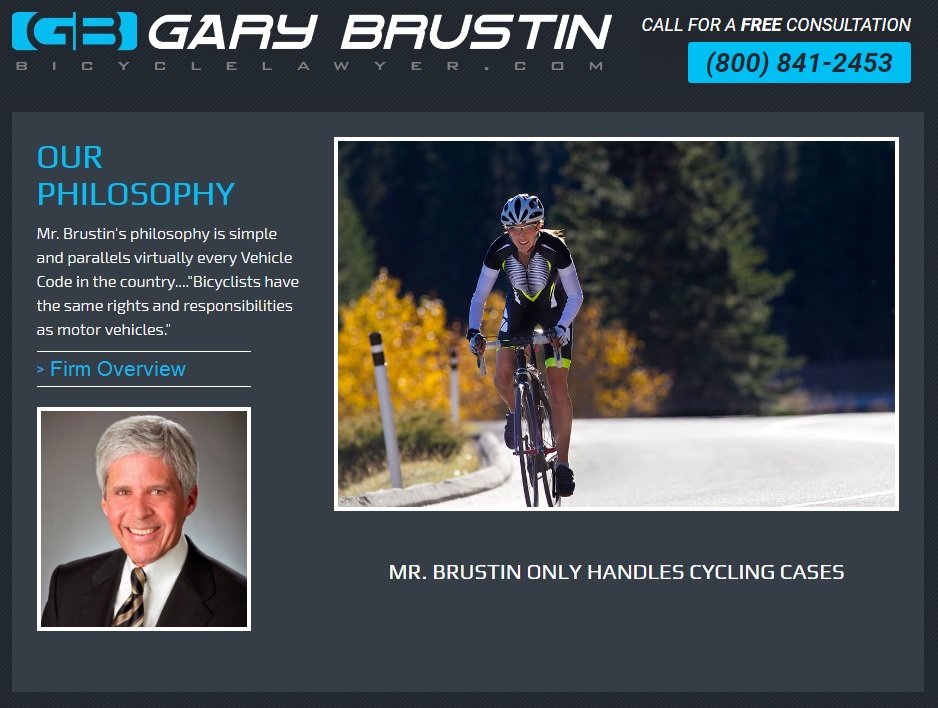 BicycleLawyer.com
Mr. Gary Brustin, an avid cyclist, is a long-time supporter of L.E.C.A. (he was the Team Attorney for our L.A. Sheriff's Pro Team and also our Amateur Club). He is a California based personal injury lawyer who specializes in protecting the rights of injured cyclists. His entire law practice has been limited to cycling cases for the last twenty years. He has handled over 1,000 bicycle accident cases and continues to personally represent each client.

Mr. Brustin generously donates his time to bicycle advocacy organizations. He currently serves on the Board of Directors of the Silicon Valley Bicycle Coalition. He served on the Board of Directors of the League of American Bicyclists in Washington D.C. (9 years) and on the California Bicycle Coalition in Sacramento (10 years). He was the founder and first chairman of the National Legal Affairs Committee for the League of American Bicyclists.

Mr. Brustin's main offices are in Santa Monica and the Silicon Valley. He represents cyclists throughout California. He also has a network of qualified bicycle accident attorneys throughout the country for clients who are seeking representation outside of California.

Please feel free to contact Mr. Brustin at any time via the above links for a complimentary consultation.
Greg "Sarge" Christopherson
FRCC President
San Diego Chapter Coordinator